One of the benefits of having a really attractive future spouse is that I don't have to worry about him looking good at our wedding.
Girls have to worry about lots of BS:
"This color washes me out."
"You can see my cellulite dimples through this ill-fitting satin."
"My boobs are falling out."
Josiah, on the other hand, could wear anything and look hotttt (middle-school throwback).
The day after Christmas, I made Jo join me to register for presents at the mall. We decided to have him measured at J. Crew, then stop next door at Banana Republic to try on some suiting.
And holy shit. I felt sinful, he looked so good. I am now worried about being one-upped by his handsomeness at the wedding. I don't think that's allowed.
Anyway, the only concern for Jo is that since he's so slender, he needs a slim-fitting suit. Luckily for him, every hip brand in the world these days make clothes for men like Jo. I like it.
We're thinking of doing a charcoal suit with a white shirt and green tie.
The J. Crew Ludlow suit:
Banana Republic Monogram: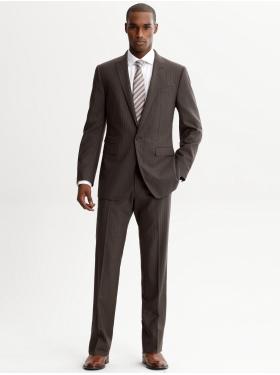 Some randoms: